Introduction
Lab-grown diamonds are taking the jewelry world by storm. Unlike mined diamonds, which can be unethically sourced and extremely expensive, lab diamonds are affordable, sustainable, and increasingly popular for daily wear. With quality and sparkle rivaling mined diamonds, lab-created diamonds make high-end diamond jewelry accessible to everyone. This article will provide tips on how to style lab-grown diamond jewelry for work, weekends, dates, formal events, and more. Follow these suggestions to transform your outfits through the versatile use of artificial diamond pieces.
Work Jewelry
Heading to the office? Keep your work jewelry subtle yet professional.
Opt for dainty lab-grown diamond stud earrings, a thin diamond solitaire necklace, a simple diamond bracelet, and a diamond eternity band ring. Stick to neutral metals like yellow gold, white gold, sterling silver, or platinum. For a pop of color, add a sapphire, ruby, or emerald accented piece. Stay away from bold, dangly diamond earrings or layered necklaces, which may be deemed too distracting or informal.
When selecting lab-grown diamonds for work, focus on timeless over trendy. Look for versatile pieces like a diamond tennis bracelet that seamlessly transitions from desk to dinner. Investment pieces like diamond stud earrings will never go out of style. Swap chains and pendants on a solitaire necklace to mix up your office look. Lab-grown diamonds are perfect for work - affordable enough for daily wear but sparkly enough to convey professionalism, class, and style.
Access more content: Everything You Need to Know About the Rise of Lab-Grown Diamonds.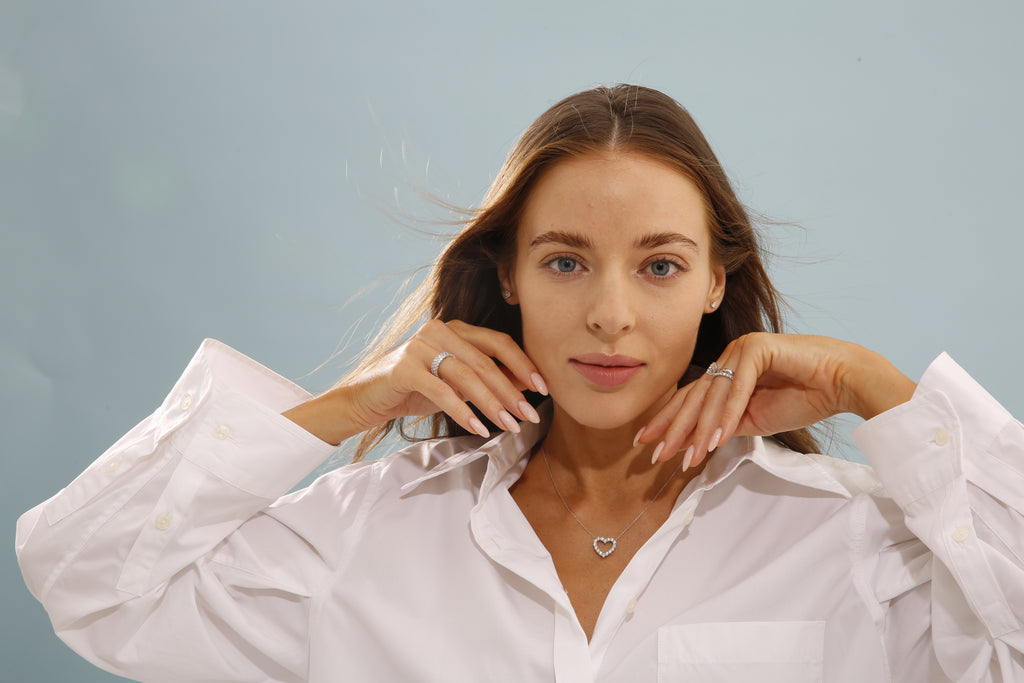 Casual Daytime Jewelry
Weekend brunch, shopping sprees, and day dates call for casual lab-grown diamond jewelry. Have fun mixing different metals like silver, gold, and rose gold. Layer a diamond initial or birthstone necklace with chains of varying lengths for a laidback layered look. Stack diamond eternity bands on multiple fingers for a trendy stacked ring style. Go bigger and bolder with lab-grown diamond hoop earrings, earcuffs, or charm bracelets.
Don't be afraid to infuse more color for casual ensembles through your choice of lab-grown colored diamonds. Pink diamonds pair perfectly with rose gold for a feminine look. Yellow diamonds pop against white metals. Accent your outfit with a lab-grown diamond bracelet featuring your birthstone or favorite gemstones like sapphire, ruby, or emerald. The options are endless when it comes to styling casual lab-grown diamond jewelry!
Click for more: Lab-Grown Diamonds: A Guide to Choosing the Perfect Pendant Diamond for Everyday.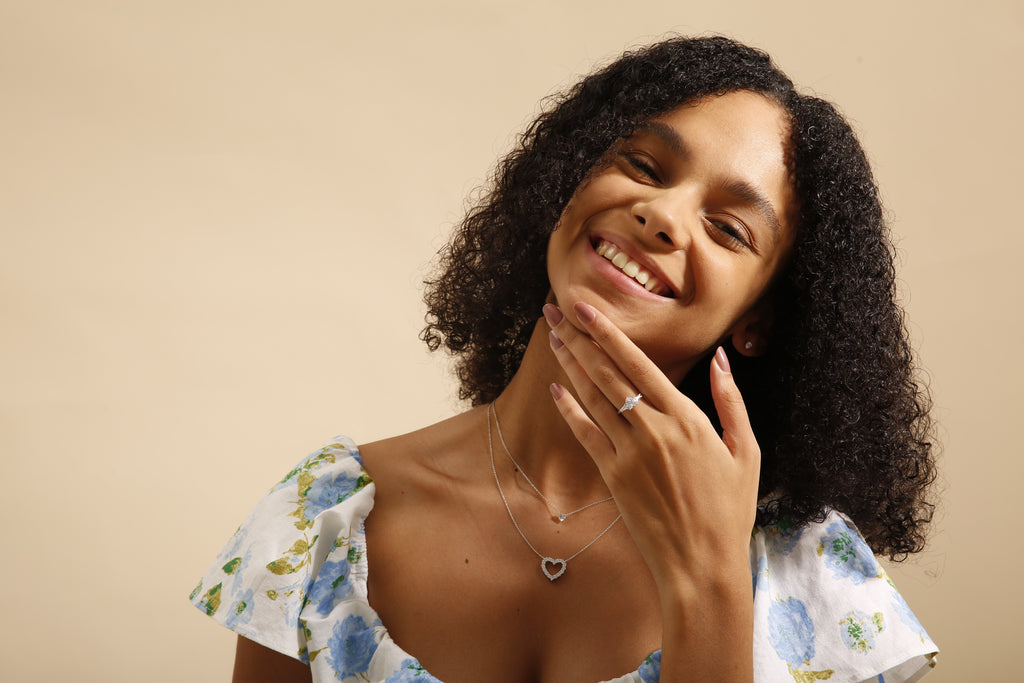 Date Night Jewelry
Are you getting ready for a night out with your bae? Turn up the glam factor with dazzling lab-grown diamond jewelry! Statement earrings like diamond halo studs or chandelier designs make a bold fashion declaration. An open collar or off-the-shoulder top perfectly showcases a diamond lariat, rowed, or bib statement necklace. Cocktail rings set with elaborate lab-grown diamonds lend a luxurious touch.
When choosing date night lab-grown diamond jewelry, look for unique settings and designs that exhibit maximum fire and sparkle. Rose gold and platinum settings provide a modern twist. Vintage-inspired designs add romantic flair. Accentuate the decadence with a tennis bracelet stack combination. There are no rules – go big bold, and let your lab-grown diamonds shine bright on date night!
Read more: Are Lab-Grown Diamonds Real?
Formal Event Jewelry
Black tie weddings, galas, and exclusive events call for pulling out all the stops with your finest lab-grown diamond baubles. Timeless diamonds set in platinum or white gold convey sophistication and luxury. An exquisite lab-grown diamond solitaire necklace will take your breath away. Showstopper diamond chandelier earrings and tennis bracelet stacks create red-carpet glamour. Hair Up showcases diamond drop earrings or a decorative diamond hair clip.
Find out more: Why Choose Lab-grown Diamond for Your Engagement Ring: A Guide.
The cardinal rule for formal ensembles is cohesion. Match metallics and limit colors. Strive for an overall polished effect with diamond jewelry that dazzles without overpowering your look. For black-tie affairs, classic elegance wins over flashy. Let your attire speak for itself, and select fine lab-grown diamond accents to enrich your style.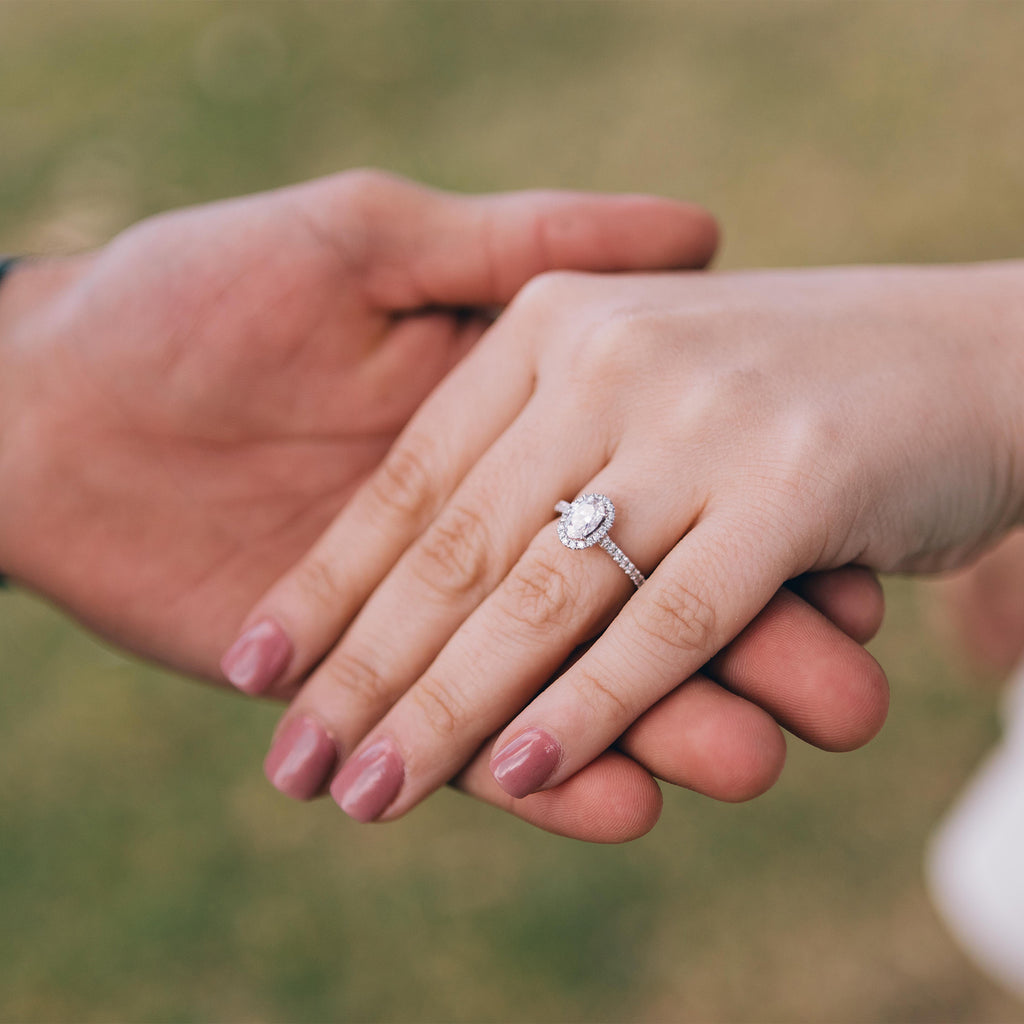 Jewelry for Specific Occasions
Certain occasions call for lab-grown diamond jewelry that holds special meaning. For a graduation ceremony, choose diamond pieces in your school colors. Stack diamond bands engraved with your graduation year or degree. Exchange birthstone lab-grown diamond jewelry with classmates for a personalized gift.
Nuptials call for bridal diamond jewelry. Adorn yourself in a lab-grown diamond bracelet borrowed from your mom. Wear diamond earrings gifted by your bridesmaids. A tennis bracelet styled as something new accompanies your gown perfectly. Add a blue sapphire lab-grown diamond necklace for your something blue.
Suppose you're jetting off on a tropical vacay; pack diamond hoops, diamond initial necklaces, and stackable diamond rings. The simplicity suits the casual island style. Yellow or rose gold stands out against sun-kissed skin. Add some shell, leather, or coral accents for a beachy vibe. Lab-grown diamonds lend just the right amount of vacation sparkle!
Access more content: Do Women Care if Their Diamond Is Lab-Grown?
Tips for Styling Lab-Grown Diamond Jewelry
Focus on investing in versatile lab-grown diamond pieces like hoops, Huggies, stackable bands, and tennis bracelets. You'll get more wear by choosing designs that transition effortlessly from day to night.
When layering necklaces, consider neckline and length. Longer pendants work best with deeper v-necklines. Chokers and lariats balance boat necks, halter, and strapless tops.
Match metals in one outfit for visual cohesion. Avoid mixing yellow gold with white gold or silver. That said, don't be afraid to experiment with mixing rose gold, which pairs well with most other metals.
Take cues from the formality of the event when choosing jewelry. Diamonds in platinum or white gold convey elegance for black-tie affairs. Meanwhile, gold diamond hoops better suit a beachy theme.
Lab-grown diamonds are designed to be worn. Don't save them just for special occasions. Take advantage of their affordability to incorporate diamond glam into your daily style.
Click for details: 8 Jewelry Styling Tips Every Woman Should Know.
Conclusion
Lab-grown diamonds make it possible to accessorize your daily looks with diamond glitz and glam. Follow these tips to style lab-grown diamond jewelry for work, weekends, dates, and formal events. Take cues from your outfit, venue, and occasion to select diamond designs with ideal shapes, metals, and accents. Each time you adorn yourself in lab-grown diamond jewelry, you'll feel confident, stylish, and ready to take on anything. Experiment with wearing diamond jewelry every day - the versatility and affordability of lab-grown diamonds make it easy. Radiate the inner confidence that comes from draping yourself in diamonds!
Read More