Navigation
Introduction
Lab-grown diamonds have soared in popularity in recent years as an ethical and affordable alternative to mined diamonds. Created in a controlled laboratory environment, these man-made diamonds have the same optical, chemical, and physical characteristics as natural diamonds - for a fraction of the price.
When choosing a lab diamond for a pendant you'll wear every day, durability is the key. The right combination of a diamond cut, setting, metal, and style will determine how well your pendant holds up to daily activities. This guide will walk through the ideal options for maximizing the brilliance and longevity of a lab diamond pendant for everyday wear.
Optimal Diamond Cuts for Brilliance
A diamond's cut determines how well it reflects and refracts light. Optimal proportions like an ideal depth percentage between 58-62%, table size between 53-57%, and symmetry measurements of Excellent or Very Good maximize brilliance and sparkle. When worn daily, a precisely cut lab diamond will better stand up to potential knocks and impacts longer.
Stick to Excellent or Very Good cut grades when choosing a lab diamond for an everyday pendant. Excellent reflects nearly all light that enters for unmatched radiance. Very Good still allows most light return but may have minor variations in symmetry. Avoid Fair or Poor cuts with bulging pavilions, shallow crowns, or off-kilter tables that impact durability.
Also, avoid more delicate cuts like rose cuts with thin, flat crown facets prone to chipping over time. An ideal cut or round brilliant is a timeless choice that will stay dazzlingly brilliant even with daily wear. Princess and cushion brilliant cuts also make excellent everyday options.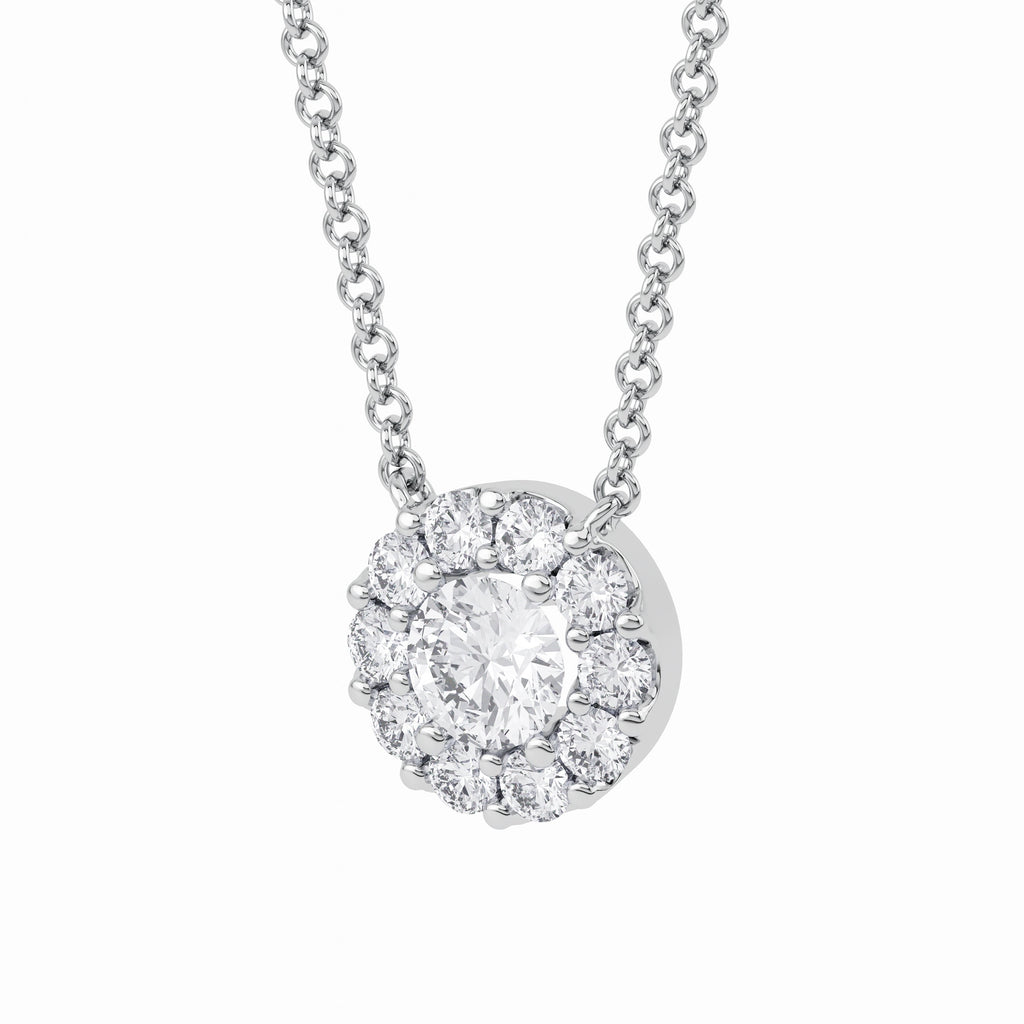 Secure Settings for Everyday Wear
The setting you choose will play a big role in keeping your center diamond secure. Prongs and bezels are the most protective mounting options for pendants worn daily.
Prong settings expose the diamond to more light on all sides, maximizing fire and brilliance. Shared prong settings with 2-3 diamonds per prong offer added durability on a budget. For best security, choose at least four sturdy prongs with thicker tips ranging from 1.8mm to 2.2mm based on diamond size. Avoid super thin "knife-edge" prongs.
Bezel settings offer a complete encircled rim of metal around the diamond for full 360° protection. This is ideal for extremely active lifestyles. However, the metal rim does prevent light from entering the diamond's sides, reducing some brilliance. Adding pavé or channel set diamonds around the center stone can increase sparkle.
Avoid tension-style settings with no visible prongs or bezels for daily pendants. The diamond is suspended by pressure alone, so these delicate styles are more fragile over time. Inlay or flush settings can also loosen with constant wear.
Metal Choice for Everyday Wear
The precious metal you choose for your lab diamond pendant plays an important role in its lasting durability. Platinum is one of the strongest metals, with incredible density, resistance to tarnishing, and endurance through everyday wear. But it also has a high price tag.
Titanium is hypoallergenic, ultralight, and remarkably scratch-resistant, making it an economical choice for everyday diamond pendants. Aircraft-grade titanium offers durability, rivaling platinum for less. Gold alloys like 18k white or yellow gold also offer an unbeatable blend of affordability, beauty, and strength. Opt for 18k rather than 14k gold for enhanced durability with higher content.
Sterling silver is readily available and lovely but will gradually tarnish and require more frequent polishing when worn daily. Vermeil adds a fine layer of gold over sterling silver for added resilience. Aim for platinum, titanium, or 18k white/yellow gold for a durable, long-lasting, everyday lab diamond pendant.
Pendant Size for Everyday Wear
Your lab diamond pendant's carat size and dimensions will impact its versatility and durability as an everyday piece. About 1 carat is often the sweet spot, substantial enough to make a statement but not too large or heavy for constant wear.
Opt for a 1/2-carat lab diamond around 5mm wide for a daintier pendant. Go as petite as 1/4 carat or 3mm for delicate pendants on thinner chains. Anything larger than 1 carat and 6mm wide will have a presence but also weigh more and be prone to snagging or impact damage with rigorous daily use. Consider your lifestyle when selecting the optimal pendant size.
You may also want to know: How to Choose Your Ring Size: A Guide for the Perfect Fit
Choosing a Sturdy Chain
The metal chain you select for your lab diamond pendant should be strong enough to withstand daily wear without breaking, stretching out, or losing shape. Box chains, Singapore chains, rope chains, and cable chains tend to be the most durable everyday chain options thanks to their tightly interlinking designs.
Heavier, thicker chains can handle more wear and tear over time. For pendants, choose a minimum 2mm thickness for chains worn daily. 2.5-3mm offers substantial durability. Larger carat weight diamonds may require an even thicker chain up to 5mm. Chain width can also impact the perceived size of your pendant, so find an ideal balance.
Also, the chain length - 16 to 18 inches is the standard and most versatile for most necklines. Longer 20-24 inch chains are statement pieces but more prone to catching. Have a jeweler attach a sturdy lobster or spring ring clasp to your chain for easy fastening.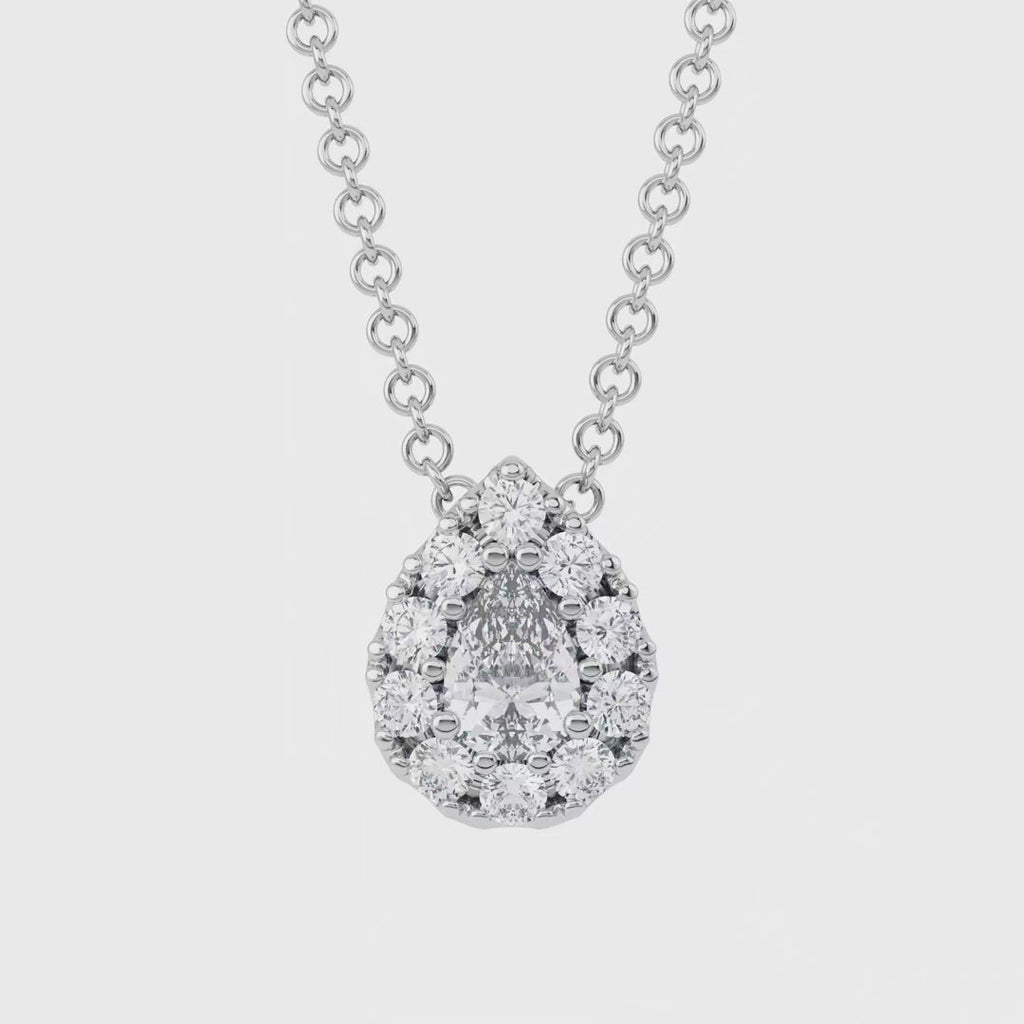 Low-Profile Styles for Everyday
Simple, minimalist pendant styles are often best suited for rigorous everyday wear. Timeless four-prong set solitaire and three-stone lab diamond pendants are classics. Avoid ornate filigree borders, hanging tassels, or edgy shapes if you lead an active lifestyle, as these extras can more easily snag on clothing or get damaged.
For special occasions or a glamorous change of pace, you can always swap your everyday pendant out for a bolder halo or cluster style studded with pavé diamonds. Removable pendants with screw-back findings are another great option for changing your look daily or traveling with multiple pieces.
https://brillistar.com/blogs/news/lab-grown-diamonds-2023-trends#three-stone-rings
Caring for Your Pendant
Observing some basic care practices will keep your lab diamond pendant sparkling like new and prevent damage. Take your pendant off when cleaning, gardening, exercising, or sleeping. Chlorine, cleaning chemicals, and abrasive surfaces can erode metals and build up dirt on diamond jewelry worn 24/7.
Have your pendant professionally cleaned once a year to keep the diamond maximally brilliant and prongs/mounting securely intact. Warm, soapy water and a soft brush are the safest cleaning methods at home. An ultrasonic or steamer can clean more deeply. Store properly in a fabric-lined box or pouch to avoid scratches.
Cost Saving Tips
Get insider tips on finding a stunning yet resilient lab diamond pendant that fits your budget but doesn't cut corners on craftsmanship. Here are smart tips:
Opt for a lower diamond carat weight, not lower clarity/color grade.
Choose simple, classic pendant settings without ornate embellishments that add cost.
Consider shared prong and bezel settings, which use less metal than prong mounts.
Opt for sterling silver, titanium, or 14k gold over pricier platinum and 18k options. You can also click to know more about difference between 14k 

and 18k white gold.

Buy loose through wholesale retailers and have a chain/pendant custom-made to save significantly.
Buy lab diamonds certified by reputable labs like GIA for assured quality.
Search end-of-year sales, estate pieces, and online auctions for diamond pendant deals.
Conclusion
An everyday lab diamond pendant lets you enjoy glittering, ethically sourced diamonds conveniently and affordably. By selecting the right diamond cut, metal, setting, and style combination, your pendant will maintain its brilliant sparkle and withstand constant wear. When choosing the perfect lab diamond pendant for every day, durability and quality should be the top considerations within your budget. Your pendant will bring joy, meaning, and beauty to your daily life with proper care.
Read More