Lab-created diamonds are surging in popularity as consumers shift focus toward ethical sourcing and more affordable diamond options. With technology improving the quality of lab-grown diamonds, they now rival mined diamonds in hardness, brilliance, and beauty. This makes them ideal for creating stunning fine jewelry at lower costs.
In 2023, expect lab-grown diamonds in engagement rings, anniversary bands, fashion rings, and men's jewelry. Read on for an overview of the key lab diamond jewelry trends predicted for the coming year.
Increased Acceptance of Lab-Grown Diamonds
Natural mined diamonds have long been associated with luxury, exclusivity, and status. This led to a stigma against "fake" lab-created diamonds. But perceptions are shifting, especially among millennials more concerned with ethics than status.
Focus has turned to lab diamonds' appealing environmental and human rights benefits. Lab-grown diamonds also offer cost savings compared to mined diamonds of equal size, quality, and sparkle.
As lab-grown popularity increases, the market is exploding. With decreased judgment and increased demand, expect to see lab diamonds everywhere.
You may also want to read: Can Lab-Grown Diamonds Be GIA Certified?
Halo Engagement Rings
The halo setting is the most requested lab-grown diamond ring style for 2023 engagements. The halo surrounds a center gem with a ring of smaller accent diamonds to amplify its carat size.
Lab-grown diamonds make halos more attainable by reducing the price of multiple diamonds. Popular and professional companies like Brillistar offer beautiful lab diamond halo designs.
Halo rings help maximize the look you love on a budget you can afford. And they dazzle with added sparkle from pavé and micro-pavé bands.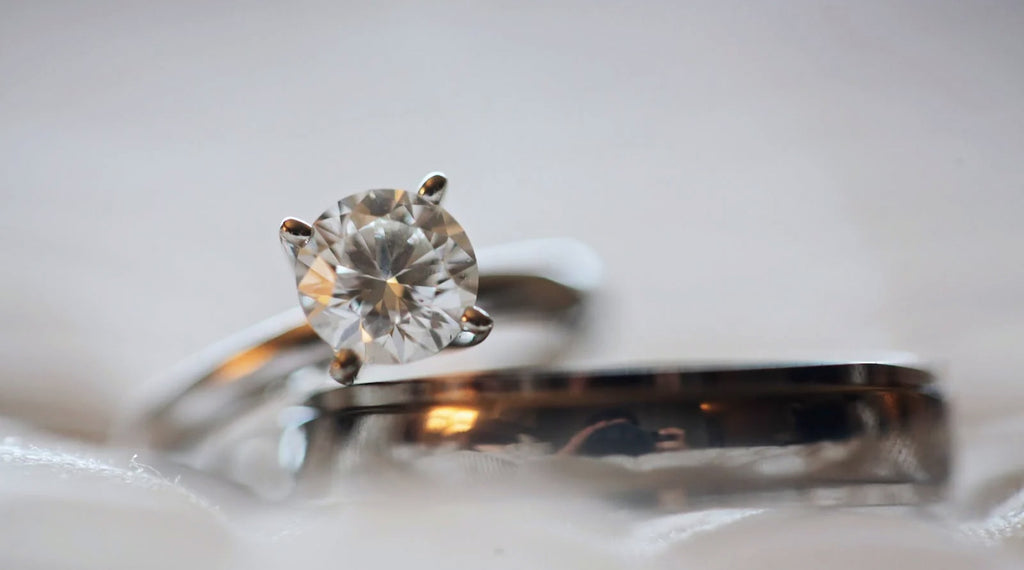 Three-Stone Rings
Three-stone rings featuring three diamonds or gems in a row are coming on strong for 2023. The style symbolizes past, present, and future. Lab-grown diamonds allow buyers to get a meaningful three-stone look at lower costs.
Buyers can opt for three identical petite lab diamonds for anniversaries or stacking sets versus one large stone. Or go for fancy cuts and alternating shapes. Settings like arcs, peaks, and off-center designs add interest. A three-stone lab ring hits the mark if you love meaning and personalization. Read to know why is it better.
Side Stone Rings
Side stones add extra sparkle and interest alongside a center gem. Opting for petite lab-grown diamonds as side stones allows you to get the dazzling look for less.
Side stones come in a variety of shapes like rounds, baguettes, or trillions that can match or contrast with the center diamond. Mixing diamond cuts and band metals, like a round center lab diamond with emerald-cut side stones against a rose gold band, makes for an eye-catching combo. Side stone rings maximize diamond looks while keeping costs lower when lab-grown diamonds are used strategically.
Solitaire Rings
Solitaire engagement rings highlighting a single dazzling diamond will always be a timeless style. Lab-grown diamonds are an affordable option to consider for solitaires. With a lab diamond, you can potentially go a half-carat larger than your budget would allow for a mined diamond solitaire.
Sleek four-prong or six-prong solitaire settings keep the focus on the stone. Solitaires especially show off the color and clarity of lab diamonds. If you love no-fuss, single-stone sparkle, a lab diamond solitaire gets you maximum beauty and ethics for the money. Click to learn how to choose a perfect one.
Men's Diamond Jewelry
Lab-grown diamonds also expand men's jewelry options. Men's engagement rings and matching wedding bands can include sleek diamond accents starting under $600.
Black diamonds complement masculine aesthetics, especially in tungsten carbide and titanium bands. Chains and watches also integrate masculine lab diamond shapes like triangles or baguettes.
Expect retailers like Manly Bands, Blue Nile, and Clean Origin to lead lab-grown men's diamond styles in 2023 using geometric, bold designs.
Conclusion
As we look ahead to 2023 jewelry trends, lab-grown diamonds are poised to shine brighter than ever. Lab-grown diamonds are hitting the sweet spot for jewelry buyers with their unbeatable mix of environmental ethics, stunning beauty, and wallet-friendly prices.
Halo designs, three-stone rings, solitaires, and side stone accents give buyers versatile options to incorporate lab diamonds into engagement and anniversary rings.
Retailers are responding by expanding lab-grown collections with on-trend halo and three-stone styles, masculine wedding bands, and other fine jewelry harnessing the brilliance and pop of lab diamonds. With their mix of ethics, economics, and sheer sparkle, lab-grown diamonds are poised to be the gemstone story of 2023.
Read More