Introduction
Diamond rings have traditionally been seen as occasion jewelry - extravagant symbols of love reserved for engagements or anniversaries. But recently, the trend of wearing diamond rings daily has taken off, with women embracing the elegance and confidence a diamond radiates 24/7. The key to making this work is choosing a ring designed specifically for comfort and durability. With innovative lab-grown diamond options that are ethical, affordable, and indistinguishable from mine, you can enjoy diamond luxury every day.
The benefits of lab-grown diamonds make them ideal for everyday wear. Cultured with advanced technology using renewable energy, they have the same optical, chemical, and physical characteristics as mined diamonds but more consistency in cut, color, and clarity. Their quality comes at a fraction of the price of mined diamonds, allowing you to get the desired carat size without blowing the budget. And when choosing an ethical, sustainable lab diamond, you can feel good wearing it daily.
Choosing the Right Diamond Cut and Shape
Opting for a round or princess-cut lab-grown diamond is your best bet for a ring that can withstand daily wear. These brilliant cuts' rounded corners and enclosed symmetrical shapes make them the most durable diamond shapes. They resist chipping better than diamonds with exposed corners, like square or Asscher cuts.
Cuts with extreme points and edges, like marquise and pear shapes, are prone to snagging on clothing and breaking over time. If you love the look of these elongated diamond shapes, just take some extra precautions, like removing your ring before active pursuits.
For something distinctive, cushion and oval-shaped diamonds are smart choices. Their softly rounded outlines add interesting detail while remaining durable for everyday activities.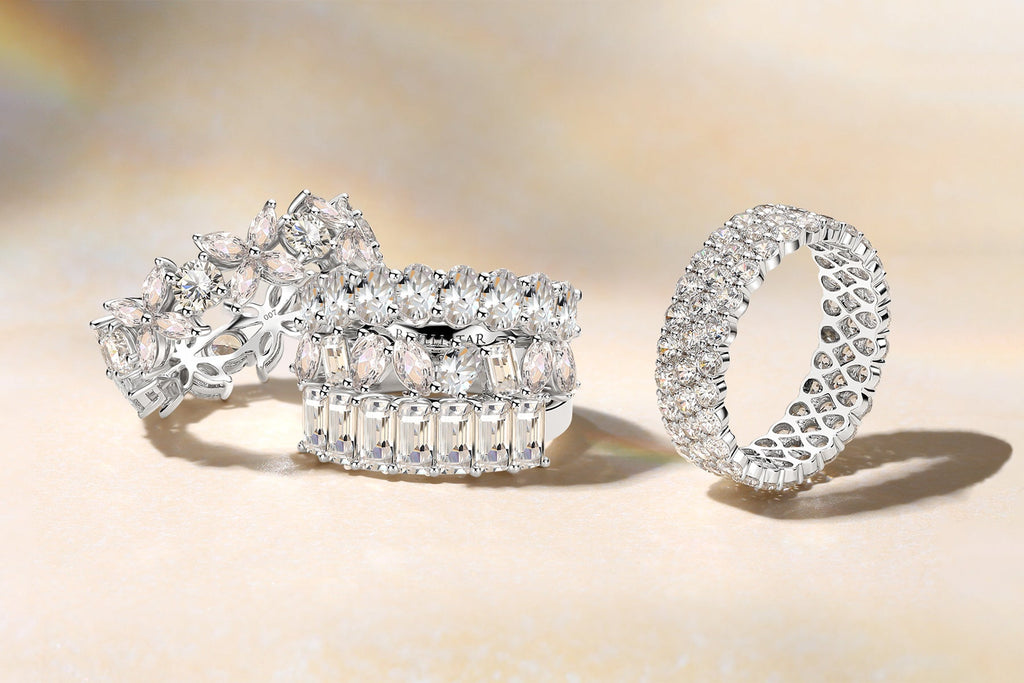 Selecting a Low-Profile Setting
How your diamond is set in the ring impacts its durability as an everyday accessory. Prong settings expose the edges and bottom of your diamond, but if properly designed, keep it secure. Shared-prong settings provide more protection than simple prong mounts.
Bezel settings that surround the diamond with a thin metal border offer even more protection and security, perfect for active lifestyles. Engraved bands add visual interest while avoiding high-profile protrusions. Low-profile diamond settings help prevent the diamond from taking blows or getting scratched over time.
Considering Your Lifestyle
Your lifestyle is an important factor when selecting an everyday diamond ring. If your daily activities involve a lot of movement, travel, or using your hands, you'll want an especially durable band. Active jobs and hobbies require bezel settings and simpler solitaire or three-stone diamond rings. These stay flush against your finger without catching on things.
Those with more office-bound jobs can opt for slightly more delicate settings and vintage-inspired stacks. But even desk jobs can be tough on rings, so go for durability over fragility. The height of your setting should match how active you are. If you know your ring will get knocked around a bit, a low-profile design will fare better.
Finding the Right Metal
The metal you choose impacts the longevity of your diamond ring as an everyday accessory. Platinum is one of the most durable metals, remaining polished and bright even through daily wear. The density of platinum provides the ultimate protection for your diamond. The higher cost comes along with that quality and endurance.
18K gold provides a good middle ground of affordability and longevity for everyday wear. 14K gold can also work but may show more scratches and wear over time. Silver is quite soft and requires frequent polishing and replating to keep looking its best. As an everyday option, platinum and 18K gold balance beauty and durability.
Click here if you want to know more about material metal:
Caring for Your Diamond Ring
The right care will ensure your lab-grown diamond ring maintains its sparkling elegance for everyday wear. Remove it before cleaning products, gardening, or physical activities where it could get damaged. Even daily tasks like washing dishes can expose your ring to chemicals and impacts that dull its brilliance.
Make an annual visit to your jeweler for professional cleaning and inspection. This keeps the integrity of your prongs and detects any loose stones early. Regularly polish your ring using a soft toothbrush and mild jewelry cleaner or soap. Taking the right precautions makes all the difference in diamond ring care.
Choosing the Perfect Carat Size
When selecting a diamond for daily wear, carat size plays a key role. While you may dream of a giant 5-carat rock, that's not ideal for wearing every day. A 1-1.5 carat diamond is great for daily durability while still making a statement.
Anything larger than 2 carats becomes increasingly prone to loosening, damage, and catching on things. The setting height also rises along with significant carat size. Opt for an excellent cut in your 1-1.5 carat range to maximize sparkle with ideal proportions. Considering all these factors, what you really want is a showstopper diamond – one that not only has the perfect cut and size, such as within the 1-1.5 carat range with an excellent cut for maximum sparkle but also seamlessly fits your lifestyle.
Conclusion
Wearing diamond rings daily is now a luxurious yet attainable trend thanks to affordable, innovative, lab-grown diamonds. When selecting your everyday diamond ring, prioritize an excellent cut in a 1-1.5 carat size, set in a durable metal like platinum or 18K gold. Choose round, princess, cushion, or oval shapes for maximum security. With the right style tailored to your lifestyle, you can enjoy cultured diamond elegance each day. An enduring lab diamond ring designed for daily wear surrounds you in beauty and confidence around the clock. Illuminate each day with diamond radiance.
Read More