Introduction
Lab-grown diamonds have made it possible for jewelry lovers to afford stunning diamond earrings inspired by their favorite stars. Without the celebrity budget, you can channel runway and red carpet looks with lab diamond halo earrings, hoops, huggies, studs, and drops. This guide covers the dazzling array of earring styles made affordable with lab diamond bling.
Meghan Markle-Worthy Halo Earrings
Meghan Markle often wears timeless halo earrings reminiscent of her iconic engagement ring design. The halo setting of diamonds around a center gem creates a major sparkle. Lab diamonds keep costs down, making Meghan-style halo earrings accessible.
Opt for a round or oval lab diamond center for classic grace. Or try a pear-shaped halo for a touch of glam. No matter the halo earring shape, lab diamonds will make the surrounding stones shine. Display your earrings at weddings, date nights, or work events to channel Meghan's elegance.
Hailey Bieber-Inspired Hoops
Hailey Bieber's off-duty model style frequently includes slim diamond hoops for an effortless look. Shared prong and channel set hoop earrings with lab diamonds carry the same luxe feel for less.
For all-day wear, choose petite hoops with diamond accents. Grab attention with huggie hoops dangling with lab diamonds. Pull up your hair to show off medium-sized hoops. Take cues from Hailey and pair hoops with jeans, slides, and a tee or blazer for model-worthy shine.
Zendaya-Worthy Huggie Earrings
Huggie hoops are a staple for Zendaya, seen on numerous red carpets in a slim, snug silhouette. Lab-grown diamonds allow you to afford petit luxury style on any budget.
Make a subtle statement by wearing Huggies for the daytime. Let them peek out from loose locks. Or showcase them with an evening up-do for black tie events; engraved or halo-set diamond huggies lend instant glamour. Follow Zendaya's lead and wear Huggies from coffee dates to cocktail parties.
Rihanna-Esque Princess Studs
Rihanna loves to accessorize with bold stud earrings, often rocking edgy princess-cut diamonds. Lab-grown diamonds open up the possibilities for unique studs by making smaller stones affordable.
Stunning princess-cut lab diamond studs make a geometric statement. Or alternate princess, oval, and round studs for an eclectic Rihanna vibe. Push boundaries with marquise or trillion-shaped studs. Mixing lab diamond stud shapes gives fashion-forward sparkle.
Beyoncé-Worthy Diamond Drops
Beyoncé drips in show-stopping diamond drops that demand attention. Now, everyone can afford jaw-dropping lab diamond drops for a sensationally affordable price.
Maximize bling with elongated oval or marquise diamond drops. Or try cascading princess or pear-shaped lab diamond drops for texture. Suspended bar drops let light pass through for major shine. For a bold look, layer single, double, or triple lab diamond drops together.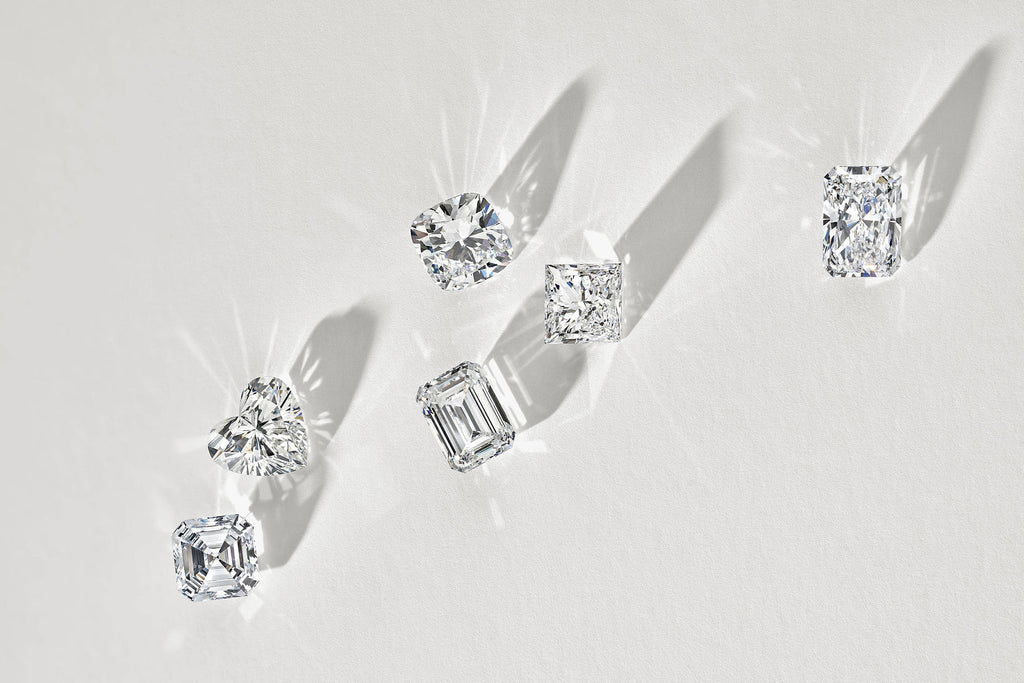 How to Choose High-Quality Lab Diamonds and Get the Best Value?
The key to choosing lab diamonds like jewelry designers for the stars is understanding diamond quality factors. Focus on an excellent cut grade for maximum brilliance, prioritizing cut oversize. Look for G-H color grades and VS clarity or above. Learning to judge cut quality is the key skill to get great value.
Lab diamonds have identical sparkle and structure to mined diamonds, carrying certifications to guarantee quality. With lab diamonds at just 30-40% of the price, you can get celebrity-caliber earrings on any budget. 
Conclusion
Beyond the glittering glow of star-studded diamonds is the reality of astronomical price tags. Lab-grown diamonds shatter these financial barriers, opening up infinitely new earring looks inspired by A-list style. Halo, hoop, huggie, stud, and drop earrings in lab diamonds make red carpet fashion attainable for all. Focus on fit, quality, and timeless shapes oversize. With savvy shopping, lab diamonds help you sparkle like the stars for less.
FAQs about Stylish Man Made Diamonds
Q1: Where can you buy high-quality lab diamond earrings?
A: Many major jewelry retailers now carry lab diamond earrings. Online retailers such as Brillistar specialize in high-quality lab diamond jewelry at lower prices.
Q2: Are lab diamond earrings as durable as real diamond earrings?
A: Yes, lab diamonds have the same exceptional hardness, brilliance, and durability as natural diamonds, so lab diamond earrings are just as durable for everyday wear.
Q3: How should you clean lab diamond earring studs or hoops?
A: Use a jewelry cleaning solution, mild soap, and water, or have them professionally cleaned by a jeweler. Avoid exposing lab diamonds to chemicals like bleach or chlorine.
Read More about Lab Grown Diamonds